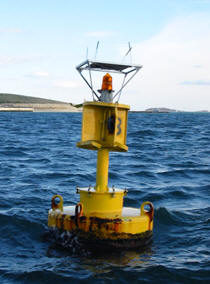 The Auxiliary is responsible for:
Verifying all PATONs on a CG determined periodic basis,

Reporting non-permitted PATONs observed in public waters, and

Reporting any PATON discrepancies that are observed at any time.
PATON discrepancies can be reported by any BQ member. The problem may be observed while on patrol or on a pleasure cruise - any problems observed should be reported.
PATON Verifications and reports of non-permitted PATONs are made by AV (Aid Verifier) qualified members.
The 1SR PATON program is described in the D1 PATON Program Procedures Guide statement. Details for AV qualification are shown on the AV Qualification Page.
A major upgrade to the PATON program in 2010 is that all PATONs are now required to be verified either every three years or annually, with the local CG Sector or ANT specifying the verification period. In addition, all reports will be maintained in an online database system that tracks all PATONs in the district. A cadre of active AVs will be trained in the use of the PATON database system and can enter data directly. Other members will send their reports via their sector ADSO-NS.
The program now includes a currency maintenance requirement for AVs. Be sure to check this out on the AV Qualification page.